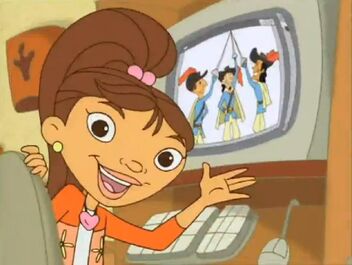 So far Season 1 of Maya and Miguel is available on Netflix, including all 20 of the featured episodes of that season.
Now what would be nice is if all the Seasons (every Maya and Miguel episode ever made) was on Netflix.
So that not only will there be more available episodes instead of just the Season 1 episodes, but more screengrabs can be made and added to this Wikia and other websites, and so that new pages can be made or improved.
Pictures I'd like to add to this wikia are Freddy and Cesar Castillo, also like to add pages for them, mostly the episode "Tito's Pet." 
Other welcome episodes are "Give Me a Little Sign," where Tito befriends a deaf boy named Marco Rodriguez, "Real Twins," which feature identical twins Gary and Barry, "The Pen Pal," "Friends Forever?", "Team Santos," "The Bet," "The Taming of Mr. Shue," "Decisions, Decisions," "The Big Fight," "Papi Joins the Band," "Crushed," (also features Cesar Castillo, and more I could list.
I made a blog about Little Einsteins being on Netflix and after that, Little Einsteins was added to Netflix, although I don't know if my blog had to do with it or if it was a coincidence. This blog just might work too (though I'm not saying it will, just giving it a try."
Other shows already on Netflix (like Handy Manny, Arthur, Postcards from Buster, Phineas and Ferb (only Season 4 is missing from Netflix, the first 3 seasons are already there, or were last time I saw), Curious George, Caillou, Daniel Tiger's Neighborhood, and Harry and his Bucket Full of Dinosaurs) should have more seasons added.
These things don't have to happen, just something I thought I'd try and put out and let people know about.
Ad blocker interference detected!
Wikia is a free-to-use site that makes money from advertising. We have a modified experience for viewers using ad blockers

Wikia is not accessible if you've made further modifications. Remove the custom ad blocker rule(s) and the page will load as expected.