(Note) More information is needed on this page, such as age of character, physical appearance, episode appearance and other information. Some more screenshots would be appreciated. Please also add an infobox to the main image for this page.
Lupe
is a minor character in Maya and Miguel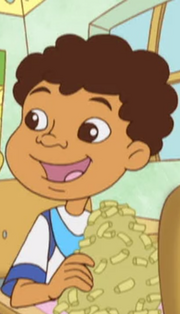 Physical Appearance
Edit
Lupe is a little boy with light brown or tan skin, brown eyes and brown curly hair.
Episode Appearances
Edit
Additional Information
Edit
Lupe seems to be one of Mrs. Langley's students.
It is possible but unconfirmed that Lupe is Hispanic/Latino. His age is also unknown.
Image Gallery
Edit
"Somebody took all of my macaroni!"