Conejito is a male rabbit from Santiago Santos' pet store. He was named Conejito by Maya after hearing her father say the word "conejito." He was later adopted by and now belongs to Jimmy McCorkle.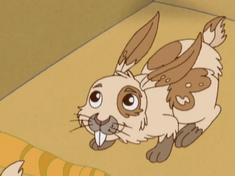 Image Gallery
Edit
Ad blocker interference detected!
Wikia is a free-to-use site that makes money from advertising. We have a modified experience for viewers using ad blockers

Wikia is not accessible if you've made further modifications. Remove the custom ad blocker rule(s) and the page will load as expected.